Musashi Seimitsu Industry Co., Ltd. (Global Headquarters: Toyohashi-city, Aichi, Japan; President and CEO: Hiroshi Otsuka, "Musashi") has made a strategic investment in Spornado Inc. (Headquarters: Toronto, Canada; CEO: Ms. Kristine White, "Spornado"), a manufacturer of an innovative early crop disease alert system.

The Spornado's device, which is placed in a field, can collect fungal disease in the air using wind power only. The farmer then sends the sample to the nearest lab which able to detect if there is a disease in the air using a simple DNA testing. Musashi sees in Spornado an important player that can help farmers around the world with their device, and we are looking to expand Spornado's business in other countries, as well as working together on projects related to DNA and agriculture.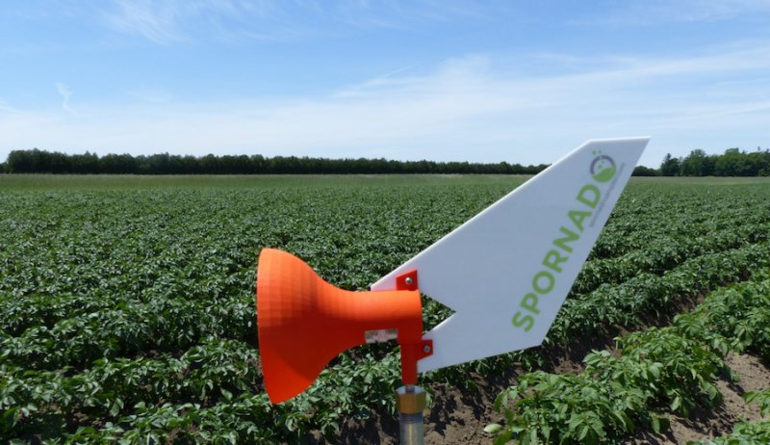 【About Spornado】
Spornado addresses the problem farmers have dealt with since the beginning of agriculture: loss of crops due to a disease. Currently, farmers are using pesticides in order to protect their crops. This solution costs time, money, and may even damage the crops with excessive spraying. Spornado's solution can alert the farmers not only when to use pesticides in their fields, but also what kind of pesticides to use, which address all of the above issues.
Spornado's Website:
https://spornadosampler.com/
【About Musashi】
Musashi Seimitsu Industry Co., Ltd. is a global auto parts Tier1 company for automobiles and motorcycles, whose headquarters is located in Toyohashi, Japan. It has 35 manufacturing sites spreading across Europe, North and South America, China, and South East Asia. Musashi specializes in designing, developing and manufacturing products such as Differential Assemblies, Transmission Gears and Assemblies, and Linkage and Suspension (L&S) products especially for the future automobiles including electric and autonomous vehicles. Musashi is also generating and expanding new businesses through open innovation with global startups to contribute to the SDGs in wider business domains. MusashiAI, a leading-edge AI technology subsidiary to lead Industry 4.0, is one of the examples.
Musashi's Web Site:
http://www.musashi.co.jp/en/